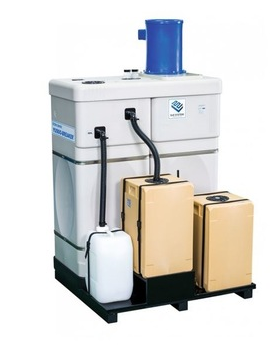 Price And Quantity
3 Unit

1103.00 - 6300.00 USD ($)/Unit
Trade Information
Incheon or Busan, South Korea

Telegraphic Transfer (T/T)

Export Standard Packing
Product Description
Detailed Images
Product Description
Our oil-water separator, YUSOO-BREAKER can dramatically reduce the high cost in processing condensate, and provides satisfied result in improving work efficiency and corporate image with small investment.
The YUSOO-BREAKER new series is the best functional product made with our long experience and accumulated technology, and user can enjoy satisfactory convenience and efficiency in our product.

Processing
Condensate emulsified by oil flows into the pressure relief chamber, and some pressure applied to condensate is removed by the pressure drop action of the chamber (Pressure drop is essential in order to generate gravity separation smoothly). Oil is floated up through 1st gravity separation from the condensate stored in the pre-tank, and this oil is collected into oil collection container through oil drain pipe (Some oil which is not emulsified must be removed because it affects much to the life of the filter). The condensate removed oil is purified during passing through the multi-stage filter container and then finally discharged.

Filter Replacement
Other company's oil-water separator has filter inside of it therefore, there are many case for condensate to flow, or to splash clothes with it, or to contaminate the floor during replacement of filter.
However, YUSOO-BREAKER new series has filter at the outside of it therefore, it can be simply and Cleanly replaced without flow of the condensate out.

Product Spec
No need to worry about expansion of the capacity of an oil-water separator.
Our innovative oil-water separator meets the needs of customers who want to increase the capacity of a compressor.
Expansion of a compressor is required when a company increases its facilities.
The capacity of an existing oil-water separator is fixed once installed and it needs to be replaced by a new product, which causes high cost and overlapping investments.

YUSOO-BREAKER NEW provides a solution to such problem.
Increase the capacity of the system just by replacing the filter.
With YUSOO-BREAKER NEW Series, you can handle increased capacity of a compressor without additional costs for replacing an oil-water separator.
Replacement filter sets

- Improved Quality filter has high efficiency and easy to change
- Reliable solution for Condesnate
- Internally divided into Multi-stages to improve capability
- High Satisfactory Performance Filters

Product Model
Company Information
PEOPLE oriented technology,

NATURE friendly company.

Technology to the first person. To think of the environment.

We have been worked for efficient treatment of condensation water generated in Air Compressor System. We are producing Auto drain trap that is an economical and reliable condensate discharger, Oil-water separator that is processing unit for condensate contaminated by oil with advanced technique and know-how.

However, energy and environment are giving big influence in enterprise activity in 21th century industrial field, and it is considered that frugality of expensive compressed air and processing for contaminated condensate are helpful to solve these troubleshooting Forward, we will do our best to answer customer`s cheering by developing product helpful for enterprise activity.

Contact Us
Company Name : EnE System Co., Ltd.
Website : http://www.enesystem.com
Tel : 070-4027-3673
Other Products in 'Machinery, Industrial Parts & Tools' category