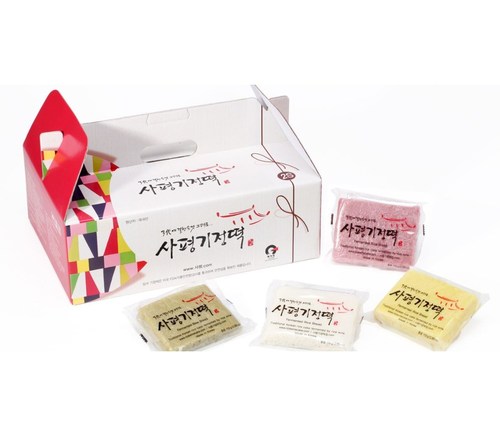 Product Description
Product Description
It contains the natural colors and tastes of mulberry leaves, turmerics, and purple sweet potatoes.

The effectes of murberry leaves : Calcium, iron, blood cleaning, glycaemic control, antioxidation, fiber, alanine, aspartic acid, detox, etc.

The effects of turmerics : Breaking down fat by accelerating the secretion of bile, activating AMPK enzyme, inducing abnormal cell death, accelerating digestion by stomach blood flow increase, detoxing.

The effects of Purple sweet potatoes : Anthocyanin antioxidant, blood pressure control, dietary fiber, glycaemic control, hangover relief, detoxification, promote digestion.
Product Specification
Weight :
1.3kg / 2.7kg / 3.5kg(±5%)

Size per piece :
about 8cm × 10cm

Raw materials and content :
Rice(Korea) 83.4%, Sugar 14.2%, Salt(Korea) 1.3%, Alcohol · Yeast 1.1%, Raisins · sesame seeds, Mulberry leaves · Turmerics ·

Purple sweet potatoes powder 1.2% each

Packing :
Individual package

Manufacturer :
Sapyeong Ricewine Cake co.,ltd

The country of origin :
Jeollanamdo Hwasun Sapyeong
Our Company
In line with the 'Newtro' (new trend newly enjoying retro) era beyond 'Retro', we will provide warm memories and make it healthier and happier. We will continue to provide innovative products by actively responding to changing market conditions while maintaining tradition.
We are making efforts to provide safe food based on the products related know-how and safety accumulated throughout four generations. In order to provide the best quality products, we have introduced the world's best food safety standards system, such as HACCP and ISO, and have international product competitiveness. As a Korean representative 'traditional fermented ricewine
cake', we are exporting it to the United States, Canada, China, Australia, Singapore, and other parts of the world.
We will accelerate our growth as a global food company loved by people around the world.

http://sapyeong.smart-co.kr/en/

* The price above is for retail price for 12pcs. For wholesale price or more quantity, please contact us.
Other Products in 'Agriculture & Food' category