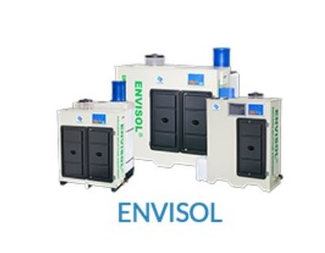 Price And Quantity
3 Unit

10500.00 - 27300.00 USD ($)/Unit
Trade Information
Incheon or Busan, South Korea

Telegraphic Transfer (T/T)

Export Standard Packing
Product Description
Product Description
ENVISOL is safe contaminated with oil and emulsion processing efficiently in small-to large capacity. ENVISOL is equipped with a variety of models, product design and technology to maintain less and reliable. ENVISOL has begun to successfully purify the emulsified condensate in compressed air systems from multiple vendors in the workplace

Product Component
Splitting Agent
The broad-range(pH4 to 10), effective splitting agent
eliminates not only the need for the continual adaptation
of pH values, but also for the use of chemicals.
Filter Bags
- Low water content of filter residue because of large filter surface.
- Filter cake consisting of a percolating residue mass that won't dissolve.
- Low filter consumtion owing to filtration through bag filters.
- Simple and fast filter replacement.
Electronic monitoring of all operating states
- Microprocessor control of sequences.
- Monitoring of the splitting agent supply
- Permanent filter momitoring
- Maintenance and alarm messages can be processed
externally via out put signal
- Monitoring system enables automatic operation.
Electronic water pump(Diaphragm)
- Adapted diaphragm type water pump
- Convenience of installation and maintenance.
- high Durability.

ENVISOL Method
The wastewater flows through a pressure relief chamber 1 for treatment in the 1st pre-separator tank 2 where free oils are reliably separated out by simple gravitational separation.

This process is unaffected by fluctuations in the wastewater in Flow. The separated oil is discharged automatically to oil-tank3 while the liquid levels are monitored by a capacitive electronic system that distinguishes accurately between air, oil and emulsion. This ensure that emulsion cannot get into the oil collector, and free parts cannot enter the splitting process. The pre-treated wastewater is then pumped into the Envisol reaction chamber 5 for fully automatic treatment. The reaction process uses dosage as a splitting agent, a non-toxic natural aluminum mineral which is stored in a metering unit 4 and stirred into the wastewater in amounts precisely adapted to the particular application.

The splitting agent encapsulates the oil and dirt particles. This results in easily filterable macro flock which are removed by a filter bag 6. The purified waste can now be discharged into the sewage system. The ENVISOL is controlled automatically through the electronic device and the device has a built-in all necessary control and signal functions.

Condensate Treatment
Industrial wastewater
The condensate contaminated with oil generated from the compressor belongs to the industrial wastewater. Therefore, treatment can be entrusted to specialized companies, or shall be treated on its own.
The excess cost is generated during charging therefore, most companies prefer to handle on their own.
Our company brings ENVISOL productivity improvement will be the company's environmental manager to satisfy the aspects of cost efficiency as well as business.

Product Model
Company Information
PEOPLE oriented technology,

NATURE friendly company.

Technology to the first person. To think of the environment.

We have been worked for efficient treatment of condensation water generated in Air Compressor System. We are producing Auto drain trap that is an economical and reliable condensate discharger, Oil-water separator that is processing unit for condensate contaminated by oil with advanced technique and know-how.

However, energy and environment are giving big influence in enterprise activity in 21th century industrial field, and it is considered that frugality of expensive compressed air and processing for contaminated condensate are helpful to solve these troubleshooting Forward, we will do our best to answer customer`s cheering by developing product helpful for enterprise activity.

Contact Us
Company Name : EnE System Co., Ltd.
Website : http://www.enesystem.com
Tel : 070-4027-3673
Other Products in 'Machinery, Industrial Parts & Tools' category