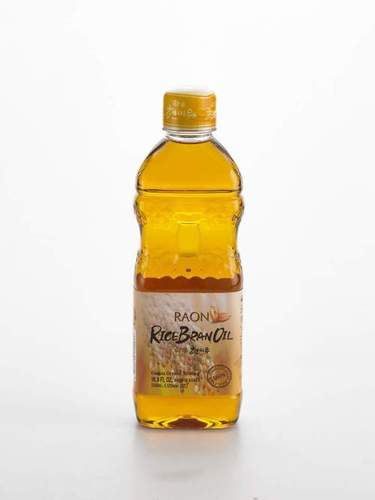 Trade Information
Busan, South Korea

Box(24PETS)
Product Description
Product Description
Contains 100% of the nutrients found in locally produced brown rice


It is pure vegetable oil made from rice grown in Korea, and it contains the same nutrients as brown rice, extracted from the embryo bud and aleurone layer of rice grown in Korea.

RAON Rice Bran Oil is extracted from the outer layer and embryo bud of brown rice, where most of its nutrients are concentrated, and subsequently refined. Therefore, it has milder taste compared with common edible oil. For this reason, no matter what the food ingredients are, the oil retains its original flavor, adding mild and rich but less oily taste.
Product Features
1. With a smoke point of 250oC
The high smoke point of rice bran oil makes it suitable especially for Korean cuisines, which are often cooked in high temperature. Rice bran oil is also free from trans fats because of its high smoke point.


2. NON GMO(GMO FREE)


This rice bran oil is safe from gmo because we use safe raw materials passed by regular non-gmo inspection.

3. With mild flavor, zero cholesterol, and zero trans fats
Rice bran oil, with its mild flavor, is a good choice for cooking children's food. The vegetable oil is free from cholesterol and trans fats.


4. With the antioxidant I³-oryzanol
Every 100 mL of RAON Rice Bran Oil contains 700 mg of I³-oryzanol, a component of rice embryo bud. Adding a few drops of rice bran oil to freshly cooked steamed rice provides the same benefits as steamed brown rice does.


5. Produced by SERIM, which specializes in manufacturing rice bran oil
Since 1996, SERIM has been specializing in producing rice bran oil using selected local brown rice, which is why RAON Rice Bran Oil is of high quality.
Specification
Product Usage
Cooking oil for frying and salads
Company Profile
SRKOREA is composed of business sections in the overseas trading and technological development departments.
The overseas trading department is in charge of overseas trading and domestic logistics of Korea's excellent products such as food, agricultural materials and building materials.
In order to become a technological leading company, the technological development department strives to support research and development and technical support of food and building material by training people with expertise.


http://www.srkorea.kr/
Other Products in 'Agriculture & Food' category